Instruction
Spearfish Canyon Country Club offers instruction to golfers at every different level of expertise. There is no golfer, at any level, who would not benefit from a session with one of our golf professionals. Whether just a beginner seeking rules and etiquette information, or a seasoned regular brushing up on a weakness, our scope of instruction will suit any need. Even the best players in the world go through issues which can be solved with adjustments from an instructor with the trained eye.

Our facility's General Manager, Rob Kortan, has an extensive level of experience with the game of golf as both an instructor and a player. Rob's background and accomplishments as a player, both as an amateur and professional, have earned many awards and much recognition. Rob was an All-American golfer in college, a South Dakota state amateur champion, and 4-time USGA event participant. His background as an instructor is wide-ranging. As an assistant golf professional working in Albuquerque, Rob learned many techniques from New Mexico's finest instructor and PGA Master Professional, Sam Zimmerly. In 2003, Rob took the reigns of the To'jahille Junior Golf Program, a Native American community on the outskirts of Albuquerque. Rob was very fortunate to work with the program's architect, 4-time PGA Tour winner, and Golf Channel analyst, Notah Begay III. In 2004, Rob learned many facets of the game from the best players in the world as a caddie for his brother, Brian, on the PGA Tour. He was on staff at the University of New Mexico from 2002-2005 as an instructor in their continuing education program, teaching the game to three different class skill levels. Since his hire at Spearfish Canyon Country Club in 2008, Rob has worked with many of the Northern Hills' finest highschool players, and has aided his golf professional in her efforts as the head coach at Black Hills State University.

Our facility's Golf Professional, Jaime Bentley, also offers a unique skill set as an instructor. As a successful and decorated college golfer at Black Hills State University, Jaime has gained an extensive amount of knowledge with regard to the game of golf. Jaime made the transition from player to coach shortly after her collegiate career, as she was the head women's golf coach at Black Hills State University from 2008 to 2017. As an avid athlete with a love for many sports, Jaime also serves as the freshman and assistant varsity coach for the Spearfish Spartans' girls basketball program. She has been employed at Spearfish Canyon Country Club since 2004 and has many hours under her belt as an instructor. Jaime is also a registered professional in the LPGA.

At Spearfish Canyon Country Club, we offer an environment and attitude which is conducive to learning. We provide quality, in-depth instruction which allows all golfers to understand the principals of the basic fundamentals. The basic fundamentals are: grip, stance, alignment, posture, and ball position. With a sharp understanding of these five static fundamentals, a golfer can then move to the dynamics of the golf swing. A golfer's level of success on the course is directly related to their knowledge of "how" to manage their game. A playing lesson may be needed to narrow the gap between expectation and performance. For the avid golfer, understanding "how" to play is every bit as important as understanding the static fundamentals and dynamics of the golf swing.

Instruction at Spearfish Canyon Country Club is offered to groups and individuals. We have junior golf sessions in the summer months of June and July. Please contact the pro shop for further details on pricing and availability. We look forward to the opportunity to serve you this year and wish you an enjoyable golf season.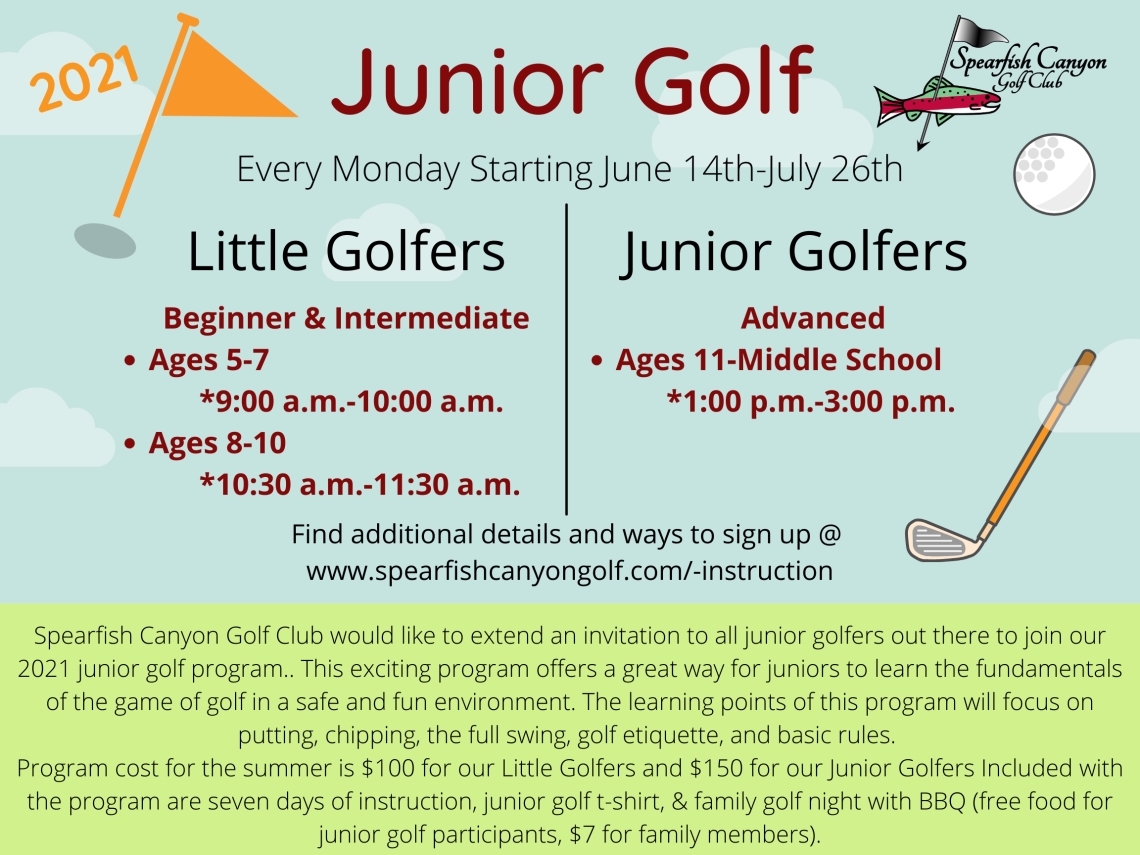 Spearfish Canyon Golf Club would like to extend an invitation to all junior golfers out there to join our 2021 junior golf program.. This exciting program offers a great way for juniors to learn the fundamentals of the game of golf in a safe and fun environment. The learning points of this program will focus on putting, chipping, the full swing, golf etiquette, and basic rules.
Program cost for the summer is $100 for Little Golfers and $150 for Junior Golfers. Included with the program are seven days of instruction, family golf night with BBQ (free for participants $7 per family member), S.C.G.C. junior golf t-shirt and prizes!
Junior Golf Dates
Monday, June 14th

Monday, June 21st

Monday, June 28th

Monday, July 5th

Monday, July 12th

Monday, July 19th

Monday, July 26th
Family Night
Monday, August 2nd

5:00 p.m.-8:00 p.m.
There will be two divisions of junior golf for the 2021 season. Little Golfers sessions will be offered for beginners and first-time participants.
Ages 5-7—9:00 a.m.-10:00 a.m.

Ages 8-10 10:30 a.m.-11:30 a.m.
Afternoon sessions will be offered for participants who have graduated our Little Golfer's program and want to learn the basics of golf and take their game to the next level by learning practice techniques, swing fundamentals and drills to help improve their game. These sessions will include 30-45 minutes of instruction and drills, followed by actual play on the course. Kids in this group will need to have their own clubs, and be able to walk and carry their golf clubs during their time on the golf course. PRIOR GOLF KNOWLEDGE AND EXPERIENCE IS REQUIRED FOR THIS SESSION.
Ages 10--Middle School - 1:00 p.m.-3:00 p.m.
Please call 605-717-4653 for more information to get registered!